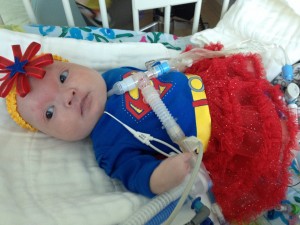 Myla was born on Aug. 1st at 5:50pm and weight 4 pounds 5 ounces. She was born with a rare chromosome disorder called Wolf Hirschhorn Syndrome also know as WHS. Wolf Hirschhorn Syndrome is a small deletion that can cause many health problems. Miss Myla Jane was diagnosed with chronic lung disease, tracheomalacia (resulting in her being trached and vented), stage 4 kidney failure, kidney reflux, coloboma of her left eye, pulmonary hypertension, and the list goes on.
After spending over 6 months in the NICU at Helen DeVos Children's Hospital little Miss Myla Jane finally got to go home and spend time with her family before passing away with her mommy and daddy by her side on March 9, 2015. Myla may have just been an infant but she showed everyone that met her how to be a fighter and smile in the worst situations possible. She was a true inspiration to everyone!
Please join us in our 1st Annual Myla Jane Memorial Outing on August 8, 2015. The outing will be hosted by Myla's Family at Terra Verde Golf Course. All proceeds will be donated to WHS Research and local families that have a loved one this this very rare disorder.
Terra Verde Golf Course
8am Shotgun Start
Registration starts at 7:15
Cost: $70.00 per person or $280.00 per foursome
Scramble Format, 18 holes with power cart, Hole Prizes, Raffle Items, Dinner, On-Course events and much more! Please call Terra Verde to Sign up!!
Phone (616) 837-8249